Data Ethics Explored Through Datopolis | Mission Drive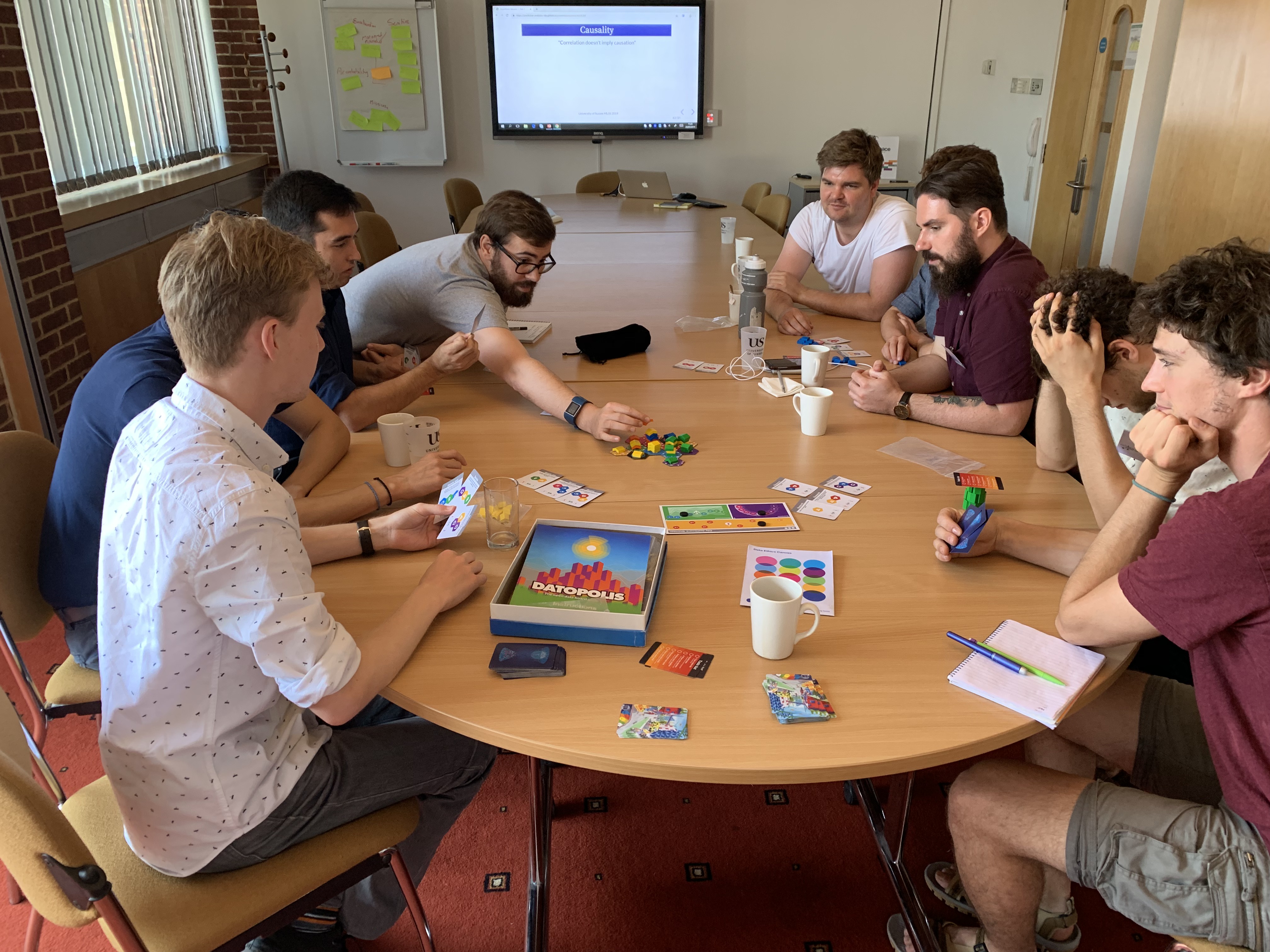 This week I had the opportunity to work with PhD researchers in astrophysics as part of their summer school. They're doing exciting work – investigating how data-driven techniques, such as AI, can help us find new exoplanets, discover new high energy particles, and uncover previously unknown phenomena. It's important stuff, right at the cutting edge of both science and technology.
Even if the focus of this group is on a cosmic scale, many of the techniques they use will end up in more down to earth domains. This might be because the tools they develop find applications in business or because they end up in the private sector, attracted by the variety of work, and the salaries on offer. Which is why it's reassuring that the summer school they were attending, organised by DISCUS (the Data Intensive Science Centre at the University of Sussex), has a specific focus on data ethics.
What is data ethics?
Data ethics is a field of practice that evaluates data work that has the potential to adversely impact on people and society – in data collection, sharing and use. It's an emerging field, but, increasingly an essential one for anyone working with data.
In the sessions we ran this week we played the data board game Datopolis to help open up the conversation and consider the impacts of the choices we make.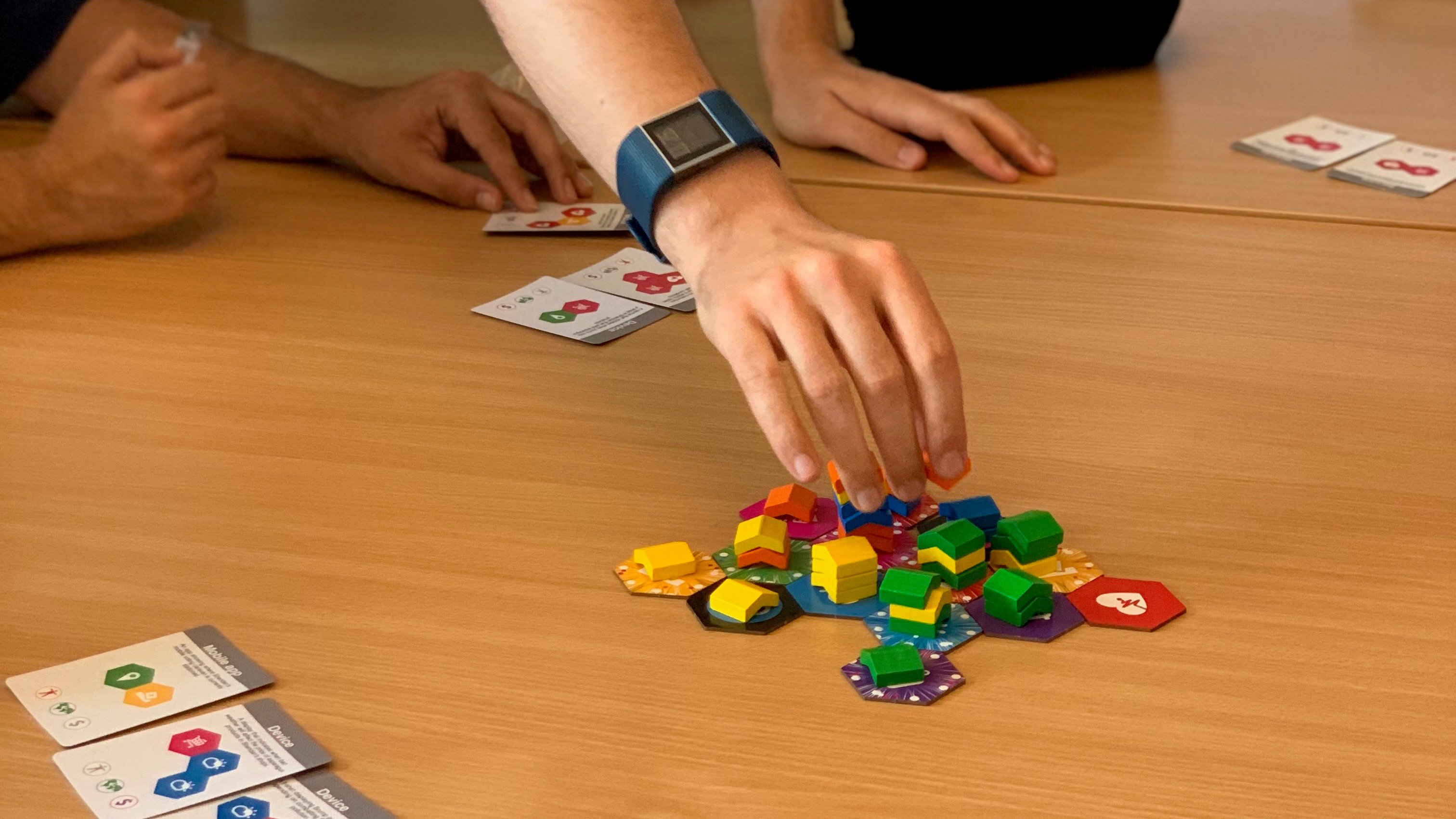 Datopolis is a tactile and engaging game that brings data infrastructure to life by simulating how you build things – services, websites, devices, apps, research – using data. Thousands of people across the world have played Datopolis to improve their data literacy, explore data concepts and have fun.
Here are some of the things that came out of playing the game and the discussions we shared:
Data ethics should be a core component of data literacy. Astrophysicists are often dab hands at advanced computing, but they also recognise that, too often, when people think about data infrastructure they only think about tech – fibre optics, databases, servers. However, the data infrastructure that they rely on in their research is much more than tech. Their data infrastructure emerges from the people, the skills, the standards, the data itself and the rules they put in place around that data. This is also the case in organisations. How this data infrastructure is developed and evolves is heavily influenced by the values we use to make decisions. Many of these decisions have an ethical dimension. For example, how do we decide how transparent to make our data infrastructure? For a researcher looking for new planets transparency might be desirable, if not essential. When you're looking for crime hotspots transparency is more important, particularly if there is the potential to unfairly impact specific racial or religious groups.
Ethical positions can change with context. Scientists generally suggest that they have high ethical standards. But, in both the game and in some real-life situations we discussed, ethics can easily be ignored when the pressure is on to deliver results. In the Datopolis game players have to balance their desire to win with the need to support the health of the fictional city the game takes place in. This reflects real-world scientific and business challenges where the need to deliver results or generate revenue competes with the need to collaborate to solve problems.
Even small decisions have a big impact. In our discussions, a range of ethical challenges was raised. A big one for researchers is that some funding bodies don't permit the data that is generated through their funding to be shared or made open. Which means that individuals need to balance their aspirations for working more transparently and for sharing their insights more widely, with the need to attract funding to find answers to important questions. But it's not just big decisions that have an ethical component. Smaller decisions like the choice of tools they use have an ethical dimension. The tools we rely on for much of data work, especially the cloud services that have so quickly commoditised data storage, contribute to harmful greenhouse gas emissions. It's an interesting conundrum. Is it acceptable to use data to give us insights into challenges like climate change, using tools that generate greenhouses gases? At the very least these decisions need to be made consciously.
It's up to us as individuals. We considered where responsibility for ethics should lie. Should it be at the individual, organisational, governmental or international level? Although it was appealing to think of a world, united under one umbrella of data ethics, this is unlikely to happen. Partly because ethics is intrinsically tied to our values and societal norms, which are very different across countries and cultures. That's why data ethics' primary locus should be at an individual level, like the medical profession's Hippocratic oath. As data professionals, we are each responsible for considering who might be harmed by our work.
It's tricky to do without a mental framework. Even for people who are figuring out how the shape of a distant star flexes under the influence of a passing exoplanet, ethics is a complex area. It involves finding a balance between our values as individuals and the goals we commit to in our working and academic lives. This is tough to think through. Thankfully there are frameworks you can work with and tools you can use.
Data ethics sets you free!
Some of the ethical dilemmas we've looked at deal with the darker side of data. However, having explored the domain a bit further, the researchers we worked with this week recognised that ethical data practices are a reflection of their values. Thinking through their ethical positions is an opportunity to think about their values, and how they want those values to be echoed in the work they do. For participants in the sessions, this could be as much about choosing to work with people who share those values, as about ensuring the algorithms they write, the data they collect and the things they find don't do damage.
From this perspective data ethics is not just a way to "do no evil". We might start to consider it as a design practise that helps us bake our values into our work.
This presents us with an opportunity to use the lens of data ethics to bring more of what's important to us into the work we do for our communities and for our companies. When we do work from an ethical standpoint, with a focus on positive impacts and a desire to avoid harmful ones, we have a better chance to do work we can be rightly proud of.