Playing games with data-driven decisions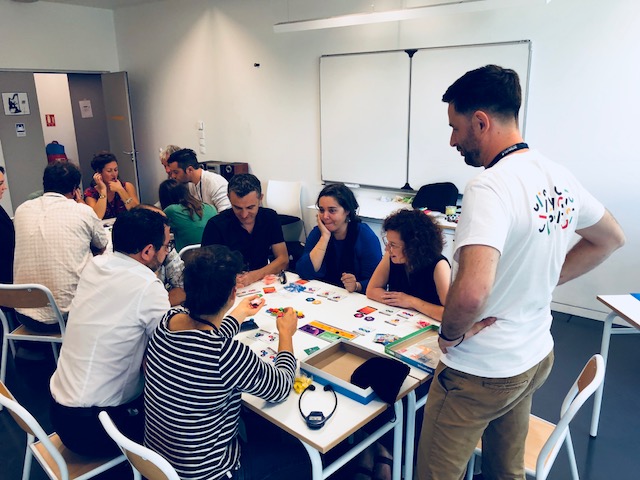 For all the talk about the potential data has, the core concepts can feel abstract and technical to many people. Playing the Datopolis board game brings the domain to life in a fun and unexpected way that encourage both discussion and learning.
Many people find it hard to know where to get started with data. That's why new methods of starting the conversation and learning about data are helpful. Datopolis, the data board game developed by the Open Data Institute is a great example of doing things differently. This article explores some of the concepts it brings to life and our experiences playing and facilitating the game.
How does a game bring data to life?
Designed by the team at the Open Data Institute, Datopolis looks at some of the fundamentals of data – from the different kinds of data used to build stuff, to the dynamics of a data market. Using the fictional city of Sheridan as its setting players try and win the game by developing useful tools and services, at the same time working together to protect Sheridan from a series of environmental, health and economic threats.
It's the game's mix of competition and collaboration, which involves negotiation between players, that makes Datopolis both a fun and educational tool. In under an hour people get to experience the dynamics of building data services, something that can otherwise take years. And that's what makes it useful.
We've played the game with a broad range of people. From senior leaders in multi-national businesses to analysts working in sustainability, to visitors to London's Science Museum. And we've found that it naturally provokes interesting discussions about how organisations and networks use data, how they can improve collaboration, and what tactics and strategies need to be developed for data to be of value to us.

What data concepts does the game help to illustrate?
We found by playing the game, and facilitating it in a variety of settings, that it illustrates some key data concepts:
Data IS infrastructure

Data infrastructure is the way that people, systems, and data connect together to make data-informed decisions, answer questions and solve problems. This infrastructure needs hardware, platforms, and applications to work. But at heart, it is all about the data. It is data that helps you build services – the one element you can't do without. Whilst you can change platforms, or use different tools, insights and services depend on data. And that can't be changed. The game brings this vividly to life by showing how different sorts of data connect together to create useful solutions.

Open data is the most valuable resource in data infrastructure

The game uses three different sorts of data – open data, closed data and private data. Open data is data anyone can access, use and share – in the game, this means that anyone can build their service or tool on it. Closed data is data owned and used by an individual or organisation, which in the game players can choose to share openly so other players can use it, or choose to keep closed so only they can use it. Private data is data that, in the game, can never be used by other players. When we play the game we find that open data always forms the spine of the infrastructure being built. Most services depend on it. And open data becomes really essential when there are threats that everyone needs to address together. This replicates actual systems and networks. Take London's transport network as an example. A thriving ecosystem of apps and services emerged when Transport for London made their transport data open. This creates multiple benefits – from making the network easier to get around, to creating new jobs at the tech companies who develop the apps and services people now regularly use.

Data needs to be done differently

Because of its abstract nature, data can be difficult to connect with, which sometimes means people don't know where to start. The game gives you things to build from the beginning which makes it clear where to start. And players learn by doing something simple first. We don't always have that in real life, but as with the game, finding somewhere easy to start is a good way to get your data work going. Even if what you do doesn't initially change the world it gets you on the right track by helping you learn or by surfacing barriers and obstacles you need to overcome.

Data literacy is key to the health of a SECTOR

Our discussions after the game work well because everyone has a common frame of reference and an understanding of key terms. That's not always the case. Which is why people need to work to establish a common understanding of data concepts in their organisations, communities, and networks. This is an important element of data literacy – "the ability to understand data, how you can interact with it and what impact it can have."

Without a strategy, it's difficult to get anywhere

Players with a clear view of their objectives and how they plan to achieve them tend to perform better. And that's what we find in organisational settings too. Without a clear strategy for data, supported across teams, it's hard to make progress.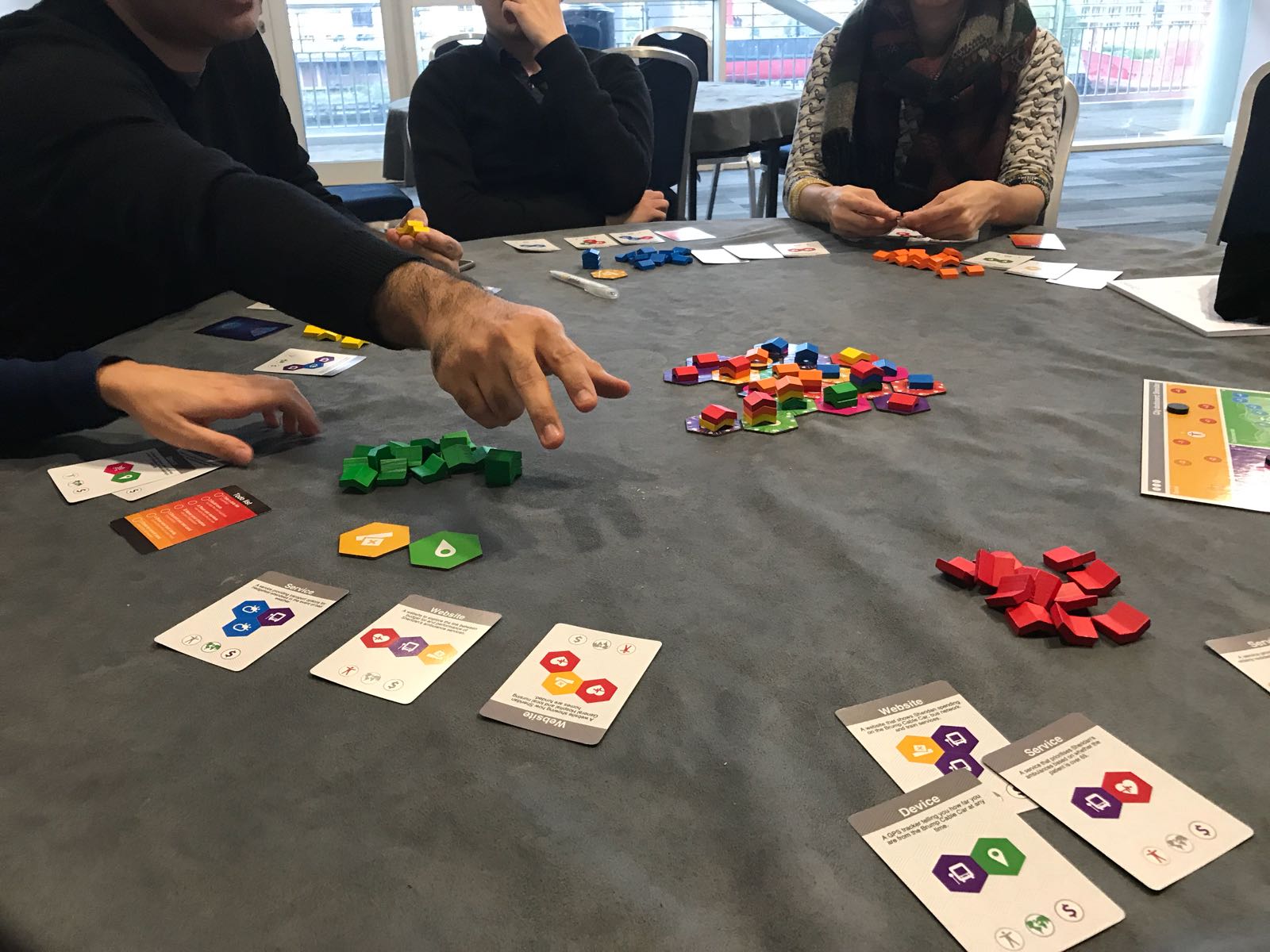 How should you get started with data?
The game makes it easy for players to get started by giving them things to build and roles to play. As the game progresses the importance of strategy becomes clear. We don't all get that in our real lives. But the principles still apply.
Find a place to get started, preferably something easy. Then define your strategy – the plan and the resources you need to make progress. For data projects, there are some practices that we suggest following, especially if you and your organisation are relatively new to working with data.
Find projects that can deliver results in weeks rather than months or years
Use an agile approach – release what you are doing early, use feedback to learn and develop things further
Consider projects that bring together different teams or external partners – data is a great way of creating meaningful collaborations.
Play the data game!
We're always keen to play the game with new people, so if you'd like to host your own Datopolis session please get in touch.