From AI to open data, the world of data is changing fast. There are plenty of ways to learn about it – from free online courses to business school programmes. However one of the best ways to get started is to start living and breathing the world of data. To paraphrase data literacy author Jane Crofts, "immerse yourself".
Here are some ways to do that:
Go to an event. This calendar from the team at Opendatasoft lists data events around the world. You can find more informal get togethers on Meet-Up. We also recommend getting to larger events like the ODI Summit.
Play a game. We've found that data games and simulations, like Datopolis, are an easy and fun way for anyone to experience how data impacts business and communities. Games are also a great way to get the conversation going.
Get social. You'll find specialist data groups on Linkedin, communities on Twitter and channels on Slack. Join them and contribute.
See it to believe it. Data visualisations are by their nature some of the most visible uses of data. They're worth exploring, then thinking about the data that makes them possible. Where does it come from? How is it cleaned then processed? What decisions did the team make in producing their visualisations? Some of our favourites are; Flight Radar's flight tracker; Information is Beautiful's Snake Oil Supplements; Fernanda Viégas and Martin Wattenberg's global wind map; and, Podio's Daily Routines of Famous, Creative People.
Be inspired. From famous quotes about data to TED talks to intriguing books, there are plenty of ways to get new ideas and energy to set you on your journey.
Don't be shy…just do it
Big Data is like teenage sex: everyone talks about it, nobody really knows how to do it, everyone thinks everyone else is doing it, so everyone claims they are doing it.

Dan Ariely, speaker and author
Whether you're excited about data or find it all a bit bewildering it's not too late to get started. The latest research about data literacy suggests that only 1 in 5 companies currently have a data literacy strategy. Those that do are in the 20% highest performing businesses worldwide, based on return on sales. This makes a compelling case for action. Action that will help you stand out from the competition and potentially create a significant impact on your business. And, whilst much of the attention in the data industry might be on shiny new technology and data science boffins, the real change will come from what you and the rest of your business do.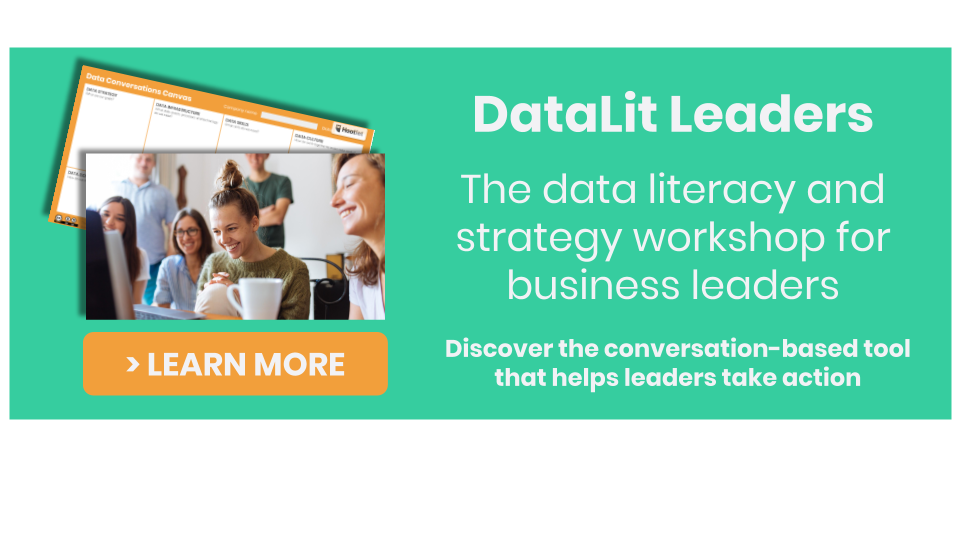 Simon Bullmore
Simon helps our clients develop effective growth strategies and data literacy programmes. With a background in business psychology, Simon has worked in data, business development and training for over 17 years. This includes leading the learning programme at the Tim Berners-Lee founded Open Data Institute, and the launch of Harvard Business School's first European office.