It all sounds so easy. Create content people will love. Put it out there. Sit back, watch the leads flow in, and wait for the waves of kudos to tumble your way. But let's pretend for a moment it's not that easy. And maybe, just maybe you're stuck in a rut.
A rut.
Perhaps churning stuff out that doesn't satisfy you or your audience is what got you stuck in that groove. Perhaps you've got an attack of writer's block - a lack of inspiration, or willing, to put pen to paper and knock out something brilliant.
The digital world makes experimenting with new types of content easy to dip your toes into. Especially if you need to freshen up your act or reach new people. Your current audience may adore your witty instagram posts, but that doesn't mean that's the only thing you should create, or that it will land with a new bunch of people.
Fresh content formats can help expand your reach. And trying something new is a good cure for the creative blues.
To help you try a new creative direction, here are 19 ideas for content you can put behind a form or a landing page.
19 Ideas for lead generation content
1. Ebooks
Ebooks are a popular piece of content you can use to generate leads, educate customers, and demonstrate knowledge of your sector. They take time to create, so be sure to choose a topic that will help a prospect go from downloading your ebook to having a productive conversation with a member of your sales team.
2. Workshops and courses
Your audience may be excited to fill out a form in exchange for something that's can help them learn faster, with an expert. You can hold the course on Zoom or post a video recording. Either way, ask participants to share their email address in exchange for the tutorial, so you can send them an email with the video recording that they can access forever.
Lynda, LinkedIn's learning platform, does that well with its course previews. Users are able to watch the first minute of a lesson and when that preview is over, a prompt appears to start a free trial.
3. Trials
Trials aren't just limited to things like courses. Sometimes, your prospects will want to try out your product or service before deciding whether they're a good fit. That's a good thing - you want to grow a base of customers that are convinced and loyal, and that can take a little more work than trying to sell your stuff to everyone who will listen.
That's why it can be helpful to provide a free trial of your product or service with no risk, no obligation, and no credit card required - the only thing the prospect needs to do is fill out a form.
4. Demos
If visitors are ready to learn more about your product or service, make it easy for them to schedule a demo with your team. You can place demo calls-to-action on key pages of your website, including your home page.
These are particularly valuable on sections of your site that explain the different highlights and features of your product or service. Once the user is intrigued, make it seamless to schedule a demo.
5. Competitions
People love the chance to win. And they can teach you a lot about your audience while engaging them, growing your reach, driving traffic to your website, and, of course, generating leads. You can run competitions on your website, or any social media platform, including Facebook, Twitter, Pinterest, and Instagram. They can be as simple as you'd like.
6. Cheat Sheets
Cheat sheets are a type of short, concise offer that someone might bookmark for future reference. Think of them as comprehensive guides to terms, commands, symbols, or other things. They should be formatted for quick reference, which means clear headers and not too much detail. And the more visual, the better.
7. Checklists
Checklists are another type of short offer that you could put behind a landing page, which readers can print out or download to their desktops. Include clear headers, a colorful design, and keep copy brief.
8. Email Series
An email series is a multi-part series of emails sent to an individual who specifically opted in to receive them. It's different from an email subscription -- it has a finite number of emails sent.
These programs are especially popular around Christmas holidays, when many brands do "12 days of"-themed promotions.
9. Email Subscriptions
Business blogging not only drives more traffic to your website, it also can become a major source for lead generation down the road. But how do you convert blog readers into leads?
First, turn them into dedicated subscribers by simply asking for their email address in exchange for sending them new blog posts daily, weekly, or monthly. Make it easy for them to subscribe by including a one-step form on your blog.
10. Guides
Guides come in many shapes and sizes. There are "ultimate guides," which are long, in-depth, and usually include detailed explanations, screenshots, and step-by-step instructions. Then, there are "simple guides," which are shorter and much more concise. There are also tactical guides, pocket guides, introductory guides and advanced guides. The list goes on.
What's the common denominator? They're all tutorials of some sort, and many of them include step-by-step instructions.
11. Kits
Kits are pieces of content grouped together into one offer. They're great for repurposing existing content by aggregating multiple offers on similar topics into a cohesive collection. This content also works well with things like media kits. Not only are you providing a user with more information and media about your company, but you're also offering it in exchange for contact information.
12. Original Data & Research
Data and metrics are have become especially valuable as many fields become more data-intensive. If your team has the bandwidth, original and data-heavy industry reports can build authority and trust with your audience. The trade-off is that curating them takes a lot of time, resources, and expertise.
One of the least expensive ways to curate original data and research is to conduct a survey among your subscribers, leads, customers, and industry professionals. Then, share the results in the form of a downloadable dataset, report, study, or infographic.
Annual reports are similar to original data and research, though they usually focus on information pertaining to a specific organisation, rather an industry at-large. And while these reports are often written with the intended audience of shareholders, they can actually be helpful resources for a number of users, like potential non-profit donors or members of the press.
13. Podcasts
Podcasts can build an audience and establish your brand as a source of expertise, while also showing off your company's personality. They put a voice to your brand, so to speak. And creating one can even be relatively low-budget -- all you need is a decent microphone and a smart -- but fun -- host who can keep your audience listening in each time a new one is released.
When it comes to using a podcast for lead generation, one of the best ways to do that is to ask your listeners to subscribe to updates about it. Subscribing to a podcast alone is already easy to do through apps that don't ask for contact information, like iTunes and Stitcher. But by offering a "latest news" subscription, you can keep your audience up to date on related information like industry trends and sneak previews of future episodes.
14. SlideShare Presentations
Because SlideShares, like blog posts, are great for traffic, some marketers choose to share them without hiding them behind a form. But that doesn't mean you can't offer a download of your SlideShare in exchange for some information. If your SlideShare is good enough, it can be a low-effort way to convert readers into leads.
15. Templates
Templates are great offers because they provide readers with a backbone for creating original things on their own. Templates often take different forms -- calendars, worksheets, and other outlines can all benefit different audiences in the form of a template.
For example, one of our most popular offers is our "Free persona template" which we promote with blog posts that teach our readers how to create great infographics in more detail. Check it out: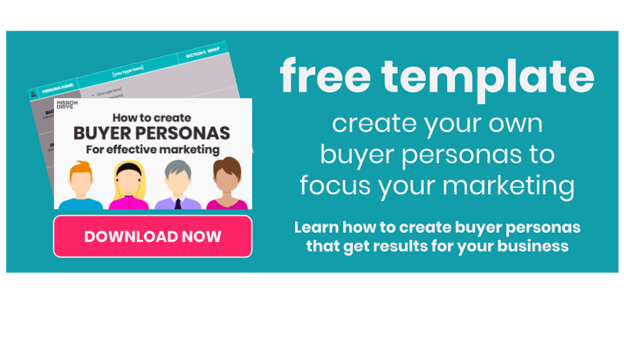 16. Events
Holding a tour of your new office, a meet-and-greet at a local coffee shop, or a conference in a major city? Whatever your event, ask attendees for their information so you can send or email their tickets ahead of time and have an ID badge waiting for them upon arrival
This way, you can follow up with attendees to let them know about similar occasions, ways to connect with people they may have met at the event, and where to download content they may have come across there. You can even add calls to action in follow-up communications that invite users to follow you on social media or subscribe to other types of content.
17. Free apps
Who says a free product doesn't make money? They're actually a great opportunity for lead generation. Try giving out free versions of your product or service - it can be lighter or have fewer features than the full-blown version - with no risk, no obligation, and no credit card required.
Here is how booking.com does this. They don't just post links directing you to the App Store or Google Play. Instead, they also provide the option to scan a QR code or get an SMS with a link to download the free app.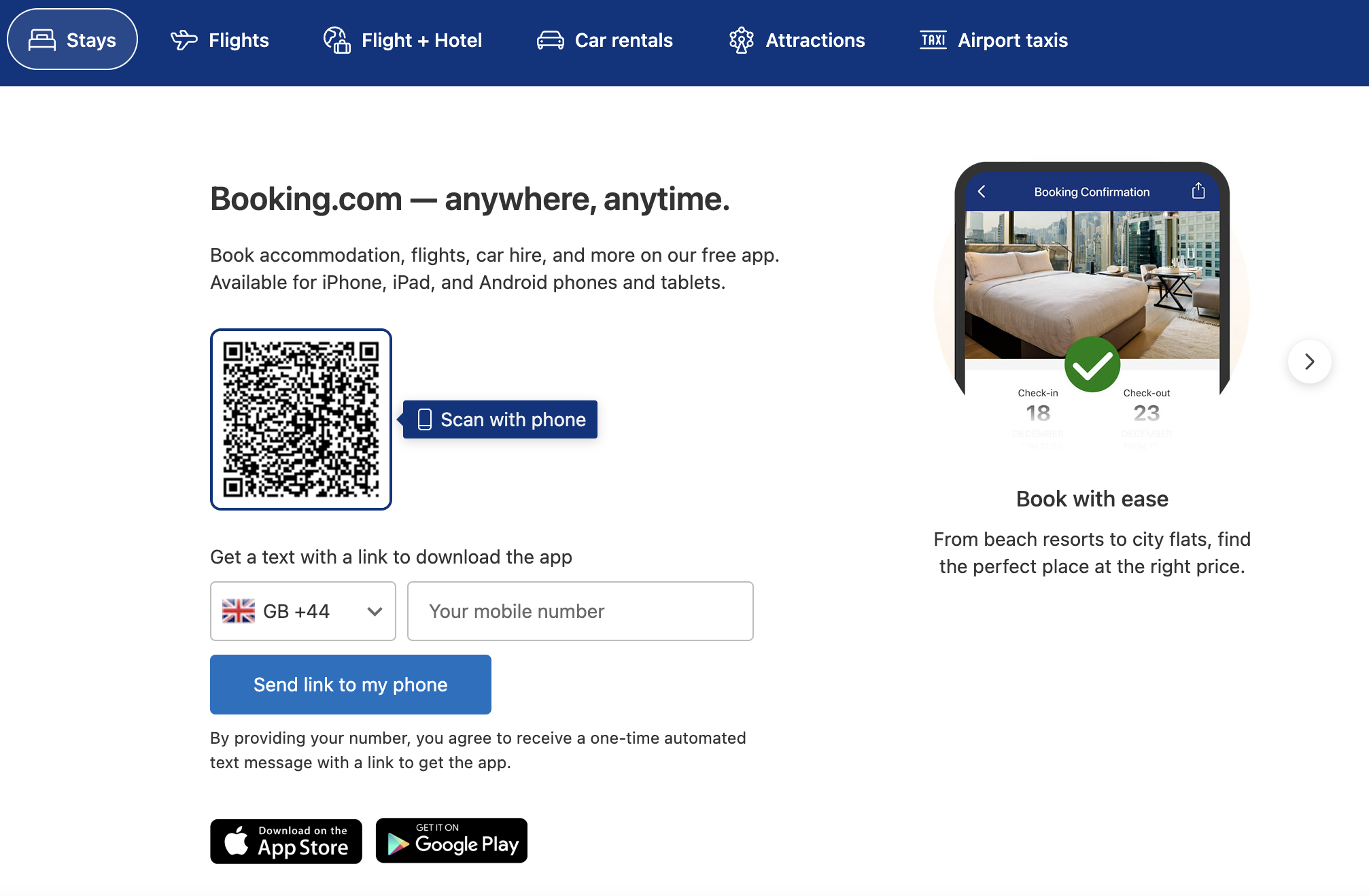 18. Webinars
Webinars are a useful content format for introducing prospects to thought leadership around your industry, and they can establish you as an expert in the discussion. A successful webinar takes a lot of work. Not just planning what you're going to deliver, but promoting the session itself. The pandemic pushed all events online, and things have stayed that way for many organisations, which means there's both a lot more competition out there and a bit of virtual session fatigue.
This makes it essential to be clear in your promotion about both the value you're offering and your expertise in the domain.
19. Whitepapers
Ebooks are informal, fun, design-heavy pieces of in-depth content. Whitepapers are more academic and persuasive reports. They're structured to present a problem, then provide a solution to it. People download them because they are authoritative, detailed, and informative. This is also the challenge - being authoritative, detailed, and informative takes effort. Achieving an academic standard requires research, thought and some form of peer review (if only by colleagues in your business or people in your network willing to help). This is what makes it of value. Just don't embark on creating a whitepaper and hope to knock something out in a week.
Don't stop thinking about exploring
From whitepapers, to templates, to webinars each type of content you put on a landing page has a specific job. By experimenting with different types of offers, you can test which ones resonate with your audience and which convert into the most leads.
You should more of what works, but never get too comfortable - keep your audience alert and intrigued with new topics and formats that are groundbreaking, but relevant.
Perhaps more importantly maintain your own levels of interest and creativity by trying new stuff, and thereby avoiding the steady drift into a content rut.
Simon Bullmore
Simon helps our clients develop effective growth strategies and data literacy programmes. With a background in business psychology, Simon has worked in data, business development and training for over 17 years. This includes leading the learning programme at the Tim Berners-Lee founded Open Data Institute, and the launch of Harvard Business School's first European office.