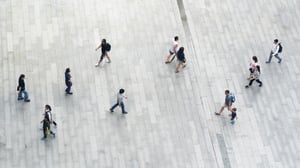 Our services
We create digital content, campaigns & infrastructure for purpose-driven people
The Mission Drive team were a pleasure to work with. Quick to understand the brief, excellent turnaround times and quality deliverables. Their agile approach and can-do attitude really stood out, particularly with a website launch project involving a tight deadline that needed all hands on deck
I highly recommend Mission Drive for their customer-focused approach, collaborative spirit, and deep understanding of data. Their tailored marketing efforts have resulted in a significant increase in enrolment.
Our mission
Responsible business impact
The work we do with clients proves that business, marketing, and technology
can be forces for good in the world
Data-informed ethical marketing
We use data ethically and shun shady marketing tactics, so you build trust with your community.
We enhance trust by helping you adopt tech like generative AI in an open, transparent manner.
We track both business and social impact with custom reports and live dashboards.
You pay us, we pay it forward. As B1G1 members we fund international development projects.
Little missions, big ideas
From quick marketing tips to long reads about AI's impact on the world of work, we've got all the ingredients for an informative and revitalising lunch break. Please bring your own sandwich...
Join the community for Ethical Digital Marketers
Do work that makes you proud.
Find purpose in your marketing career.
Build a trusted brand.
Meet people like you.
Our community spaces, newsletters and events and are where marketers who care about their impact share their experiences and ideas.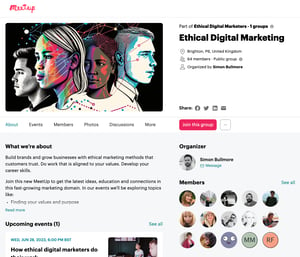 Sign-up for news
Plant a tree & keep up to date
Get quick tips and new ideas when you subscribe to our newsletter. Thanks to B1G1 we plant a tree when you sign-up. It really happens!